TRANSAFRICA 2013
AFROTEAM | Atar Expeditions | Le phare du désert
AfroTeam Algarve
Site last published: 29/3/14
21/02/11 17:10
And in the meantime, we apologize for not being able to maintain the site frequently updated, but that's what happens when you don't have a satellite phone!
First of all, we are happy to announce that the team has completed all of its goals, and that the Land Rover Series III from 1973 has performed 100% throughout the rally. It's been amazing to drive such an icon for 18.347 Kms (11.400 miles), on such diverse scenarios and cultures.
We left Albufeira, south of Portugal, on January the 8th and after approximately one week reached Budapest. Here we had the SRTU (Satellite Race Tracking Unit) installed and left on the 15th, facing a 3000 km Super Marathon that ended already in Morocco (this insane stage alone took us 62 hours to complete, yes, stopping only for fuel...). We realized that either the machine or ourselves would break upon such a rhythm, so eventually we redefined our goals and, as we expected, the 109'' performed flawlessly. After all, the engine was "new"...
It has been a unique adventure, where we met amazing people and drove through breathtaking scenarios. We will be bringing to you extended stories through Land Rover Owner International magazine, our UK exclusive press partner.
Africa is still Africa, where the freedom of driving the genuine off-roader (aka Land Rover) is a leap forward for those who seek adventure and the desert expedition spirit.
AfroTeam Algarve is thankful to all our sponsors and media partners who helped us in achieving our goals, rendering this project a tremendous success.
Pretty soon all of our sponsors and media partners will receive an exclusive Press Kit with loads of High-Definition content
.
Last but not least, we must express our deepest gratitude towards
All Wheel Trim
and
Kim Johnson
for having sponsored us with the equipment that saved our skin in Europe (snow, rain, below zero temperatures) and in Africa. These guys produce amazing pieces of equipment (proudly made in Great Britain indeed!), whose quality we must uphold after facing not only the adverse European weather, but also the heat, dust and sand storms that blew upon our Series III three days non-stop...
We will be uploading some video clips soon, stay tuned!
Meanwhile, here's the link for a
gallery of over 200 photos
!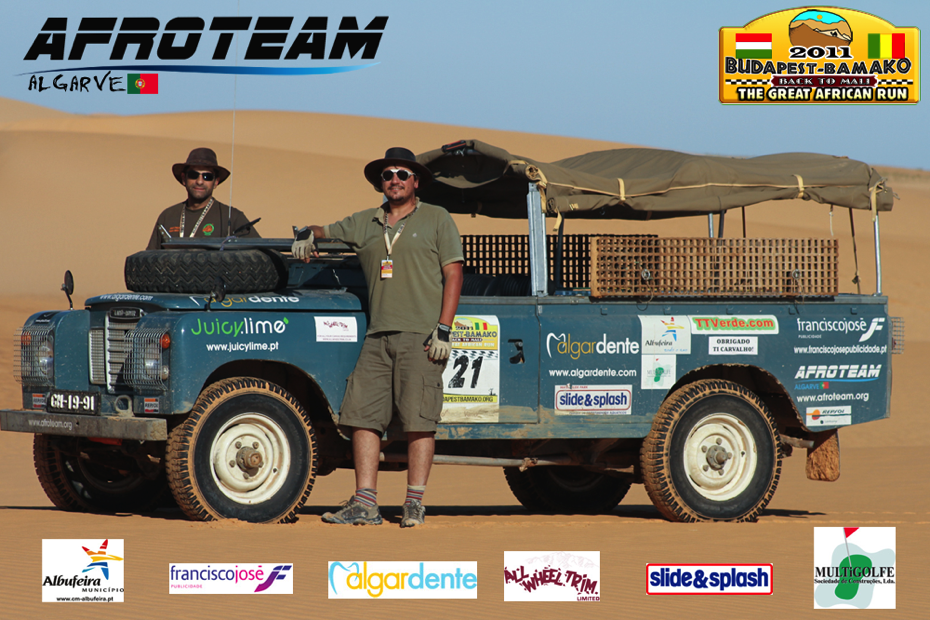 And for those interested in Radio, even if unable to understand Portuguese, here's a communication between AfroTeam's pilot António Vilela, broadcasting near the Morocco-Mauritania border and two Portuguese, one in Portugal and the other in the US.